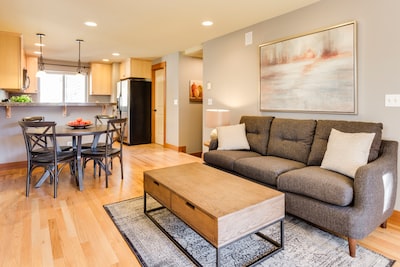 Selling your home can be a daunting task. There is so much to do and so much to think about. If you are feeling overwhelmed by the process, or by just the thought of it, Oakstrand Realty has some advice for you. Below are some great tips and ideas for ways to make the whole process easier and help you maximize the impact of a good first impression.
When pricing your home, it is important to set a reasonable price. A comparative market analysis can help you determine the right price for your home, so that you don't have to lower it later. Additionally, you should invest in a landscaper or enhance the outside of the home yourself to make sure it looks aesthetically pleasing and inviting to potential buyers.
Making sure your house is move-in ready is also essential. Buyers don't want to start fixing things when they move into their new home, so if the house needs work, do it before you put it on the market. Installing modern appliances is also a great way to increase your home's value and appeal.
If you are looking to make money flipping real estate, you need to find solid houses that need cosmetic repairs. Updating and freshening a home's cosmetic appearance can make it appeal to buyers who do not have the confidence to do those type of repairs.
It is also important to keep in mind that certain features, such as an in-ground pool, may not be as desirable in certain areas. If you live in an area that is notorious for having cold weather, it might be a good idea to not install a pool.
Doing your research is also essential. Read up on real estate investments, financial availabilities, marketing and acquisition techniques to help you have realistic expectations as you move towards buying your home. Even a new buyer can feel confident about home purchases when they are well informed.
Finally, getting rid of some of your furniture can also make your home more attractive to buyers. Big pieces can make your home look small, so finding a place to store them until you move can make a difference.
By following these tips, you can help make the process of selling your home easier and increase your chances of a successful sale. At Oakstrand Realty, we are here to help you every step of the way.