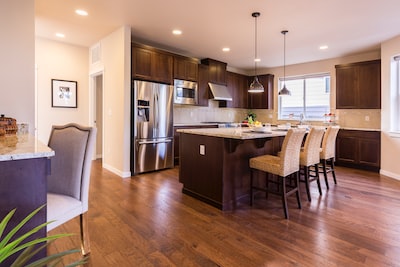 Selling your home can be a daunting task, but with the right knowledge and preparation, you can get the best price for your property. Whether you're looking to move quickly or take your time, here are some valuable tips to help you make the most of the process.
When it comes to making your home look attractive to potential buyers, you don't need to break the bank. A fresh coat of paint inside, sparkling windows, and some brightly colored flowers outside can make a big difference. Taking the time to improve your home can also help you get a better price when the time is right.
Adding energy-efficient features to your home can be a great way to entice buyers. Installing LED bulbs, an energy monitor, and outdoor solar-powered motion lights can show buyers that they'll save money on their energy bills. Taking these steps can also help you stand out in a competitive market.
The front door is often the first thing buyers see when they come to view your home. Make sure it looks its best by giving it a fresh coat of paint in a bright or contrasting color. This can make a huge difference in creating a good first impression.
When it comes to timing, spring is often the best season to sell your home. Families don't want to uproot their children during the school year, so it's best to get your home ready to go during the winter months and list it by late February. This gives you five months to sell during the peak months of the year.
If you're selling your home in the fall, you may need to be more flexible when it comes to accepting offers. Many buyers are looking for a great bargain, so be prepared to negotiate and make counteroffers. You may also want to consider updating the photos on your listing, as this can help make your home look fresh and inviting.
Selling your home can be a complex process, but with the right preparation and knowledge, you can get the best price for your property. Keeping up with the latest information in the market and following these tips can help ensure a successful sale.