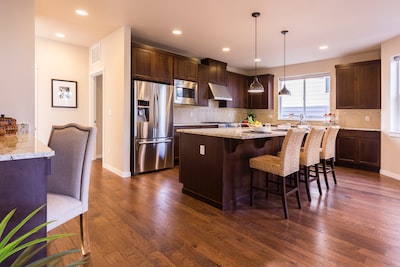 Selling a home is a major decision that requires careful consideration. To ensure a successful sale, it is important to be well versed in the home-selling process. The following article provides advice and tips to help you through this important decision.
When trying to sell a property, make sure it is always ready for a showing. You never know when a potential buyer will call, so it is important to always be prepared. Ensure the property is in perfect condition at all times.
Maximizing the impact of a good first impression is essential to selling a home quickly. Most buyers have an image of their dream home and you want to make sure that your property meets their expectations the moment they lay eyes on it. Invest in a landscaper or enhance the outside of the home yourself to make sure it looks inviting and appealing.
Sellers are more likely to negotiate during the fall months. They may have rejected offers during the spring and summer that they would be more than happy to accept this late in the year. If a home you looked at earlier in the season is still on the market, go back with a lower offer and it may be accepted.
Be prepared to negotiate and make counteroffers when selling a home in the fall. Many buyers that are in the market during these months are looking for a great bargain. Do not get offended by their offer, instead counteroffer with a price that you are willing to let the home go for.
Knowing the features of a property can help determine the selling or offering price. Features such as swimming pools, two-car garages, single car detached garages or attached garages can increase or decrease the value of the home depending on the area.
When prospective home buyers visit a house for the first time, they often try all the switches, knobs, faucets, and cabinets. Create a favorable first impression by making sure all faucets and fixtures are clean, polished, and fully functional. Small problems or cosmetic flaws can easily add up in the mind of a potential buyer.
Make sure your agent is advertising your home on the MLS and top sites such as Trulia.com and Realtor.com. Also make sure that plenty (six or more) quality pictures are included with each ad. Research shows most home buyers start on the internet, and you want to make sure your property is one they will immediately take a look at.
A major selling point of a home is the bathrooms. When you are looking to sell your home, make sure that your bathrooms sparkle. Keep everything as clean as possible, including mirrors, light fixtures, and faucets. Try displaying your best or new items in the bathroom, such as your best or new rugs, shower curtains, and towels.
Set your selling price at the actual market value. You can't back track fast enough if you overprice your home. Other realtors and buyers will see that you are lowering your price six months down the road, and it puts you in a weaker bargaining position. Decide on a fair and competitive price from the beginning, and price your home accordingly.
Selling a home is a major decision that requires careful consideration. Knowing the basics of the home-selling process is the first step in ensuring a successful