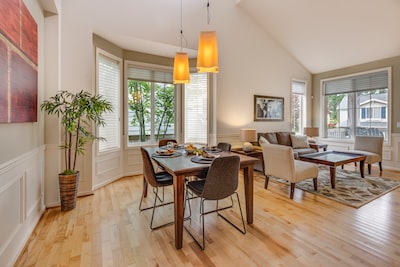 Selling your home is a complex process, and it can be difficult to know where to start. At Oakstrand Realty, we know that you want to get the best price for your property, and we're here to help. Here are some of our top tips for making the most of your home sale.
Creating confidence in buyers is key. Many buyers are concerned about their ability to obtain financing for the property, so it's important to obtain pre-qualification from a lending institution. This will show buyers how much you are approved to borrow, and can help to make your offer more attractive.
Curb appeal is also essential. Before they even step inside, most people will make an impression of your home based on its exterior. Make sure to clean up your yard, add some patio furniture, and plant some flowers and plants to create an inviting and enticing atmosphere.
You may also want to hire a professional appraiser to get an accurate assessment of your home's value. This can be particularly useful if there has been little real estate activity in the area recently or if your home has unique features.
Renovations can also help to improve the value of your home and make it more attractive to potential buyers. If construction is slow, you may be able to get a bargain on labor, so it's worth considering.
Wallpaper can be a big turn-off for buyers, so it's important to remove it and paint the walls a neutral color. Make sure all faucets and fixtures are clean and functional, and consider replacing any outdated appliances.
Finally, it's important to make sure that your home is priced correctly. Don't always trust your agent – it's worth getting a second opinion, and the Federal Housing Finance Agency has an appraiser code of conduct for accurate evaluations of the value of your home.
By following these tips from Oakstrand Realty, you'll be in the best possible position to make the most of your home sale.